Fencing
From Residential Corrals to Feed Lots
Farm Fencing
Steel Fencing for Agriculture, Plants & Animals
Whether you're trying to keep plants and animals in or keep them out, quality fencing is an essential component to any farm. And when it comes to quality, how the fence is installed and the materials used can be the difference between a fence that lasts five years and a fence that lasts a lifetime or more.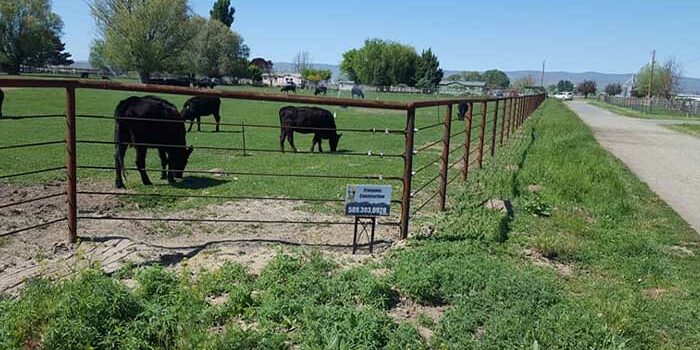 We Also Sell Fencing Supplies
Premium Farm Fencing Options
Built to Last a Lifetime
Choosing the right type of fence is perhaps the most important part of any farm fencing project. Do you want to keep livestock animals in? Do you want to keep deer and other pests out? Maybe you need a trellis system to guide and support your crops as they grow, and maybe your terrain is not conducive to traditional types of fence. When we visit your property, we'll help you evaluate your needs and decide on the fence type that will be most appropriate. 
Cable Fence

If you're looking for a sturdy and visually appealing fence option, cable fencing is one of the strongest and most cost-effective fencing materials around. Cable fences are great for pastures and other general fencing applications. 

Horse Fence

Our horse fences are made of flexible, yet hard-to-break materials that help to reduce the risk of impact-related injury to the animal. In addition to their strength and durability, they come in a variety of colors for aesthetic appeal.

High-Tensile Fence

One of the strongest and lowest-maintenance fences we offer, high-tensile fences are a safe and effective barrier for keeping livestock in. These fences stay tight and maintain their shape for years with very little maintenance. 
Woven Wire

For chickens, smaller livestock, and simple garden fencing, woven wire fences are an inexpensive yet effective option. They can be installed in varying heights based on your needs and the animals you're trying to keep in or out.

Cable Trellis Systems

When you need to make the most of your farm's square footage, a cable trellis system can help. These custom-built structures help support plants as they grow upward, so you can plant more in every acre.

Barbed Wire

If the visual barrier of a cable or high-tensile wire fence is not enough to keep your animals contained, strands of barbed wire fencing can be added to nearly any fencing project. 
Get Started on Your Fencing Project Today!