Demolition
Orchard Demolition, Haul Out, & General Demolition Services
A Professional Demo Crew
For Any Task or Project
Recently acquired a new property that is not salvageable? Looking to replace a road, bridge, or other structure? How about clearing acres of land quickly? Our demolition contractors are ready to help with a quick turnaround on any demolition project you can think of. 
Because demolition can sometimes be a tricky process, we work closely with local and regional regulatory bodies to ensure that we obtain all necessary permits and meet all codes for proper disposal of materials.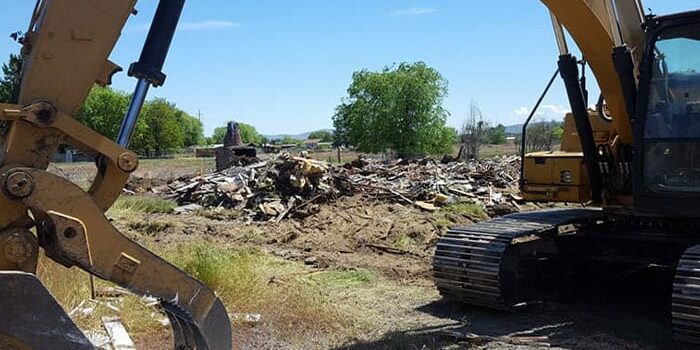 See What We're Working With
Why Hire a Demolition Company?
Get the Job Done Right, On Time, and On Budget
When time is money, it's always a good idea to save both and hire a professional. Ironically, knowing how buildings and other structures are made is one of the best prerequisites to taking them down safely. Our team of skilled contractors bring years of construction, excavation, and demolition experience to the table—not to mention an arsenal of professional tools and equipment that help them get the job done right – quickly, safely, and efficiently.
Orchard Demolition

Clearing land where hundreds or thousands of trees stand is a massive undertaking. Leave it to the professionals with the tools and equipment to make quick work of the job.

Building Tear-Down

Don't wait for that old barn or steel building to fall down on its own. We'll make sure it comes down how and when you want. We can even help salvage materials for reuse or recycling. 
Rock & Concrete Removal

Replacing a road, driveway, or other concrete structure? Our team makes the demolition of any type of rock, asphalt, or concrete quick and painless, so you can move on to replacing it with something new. 

Bridge & Structure Removal

To put it plainly, there's not much we can't demolish. With a suite of powerful, professional equipment and a deep understanding of the way buildings and other structures are made, we're able to complete demolition projects safely and effectively. 
Serving the Lower Yakima Valley & Beyond